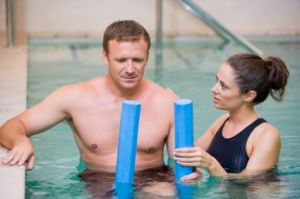 Aquatic Therapy at ATS – Spartanburg
Aquatic therapy is unique in that it can reduce the weight-bearing environment in which patients or clients exercise. Thus, it allows patients to perform movements in the water with reduced stress on joints and provides resistance for strengthening, toning and stabilization. These movements are not always possible to perform on land because of pain/stiffness and weight-bearing restrictions.
Our therapists evaluate each patient and use this evaluation to design and implement a patient-specific aquatic program to address impairments. Some of these conditions include orthopedic injuries and post-surgical dysfunctions, joint replacements, back and neck pain, arthritic conditions, fibromyalgia and neurological impairments.
Aquatic therapy can increase strength and endurance, increase range of motion, decrease swelling, improve balance and coordination, improve circulation. It can also help in the strengthening of the synergistic muscles around affected joints.