Medical Library
Loading...Please Wait
Posterior Dislocation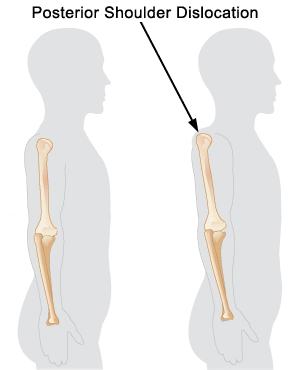 Dislocations in which the arm moves backward out of the socket (called a posterior dislocation) are uncommon (4%). Posterior subluxation is being recognized more frequently in athletes involved in sports such as tennis and baseball.
As mentioned above, sudden dislocation is an emergency. The patient should be taken to the emergency room immediately to make sure there is no damage to the blood vessels or nerve that go to the shoulder, arm, and hand. Usually, the emergency room physician can move the arm in such a way that the dislocated shoulder reduces back into its proper place. Rarely is surgery indicated. Pain and muscle relaxant medication is often prescribed. Ice can also help reduce the pain. Physical therapy is usually started 2-3 weeks after a dislocation to strengthen the muscles that support the shoulder joint.
Possible Treatment Goals
Decrease Risk of Reoccurrence
Improve Fitness
Improve Function
Optimize Joint Alignment
Improve Muscle Strength and Power
Increase Oxygen to Tissues
Improve Proprioception
Improve Tolerance for Prolonged Activities
Disclaimer
The information in this medical library is intended for informational and educational purposes only and in no way should be taken to be the provision or practice of physical therapy, medical, or professional healthcare advice or services. The information should not be considered complete or exhaustive and should not be used for diagnostic or treatment purposes without first consulting with your physical therapist, occupational therapist, physician or other healthcare provider. The owners of this website accept no responsibility for the misuse of information contained within this website.